Pelareorep for HR+/HER2- Metastatic Breast Cancer
In the US, major European markets, and Japan, drug-treatable HR+/HER2- breast cancer cases are projected to rise to nearly 300,000 patients by 20281. To address this growing need, Oncolytics is investigating pelareorep in a randomized Phase 2 clinical trial called BRACELET-1. This study has three arms that combine pelareorep with chemotherapy and an immune checkpoint inhibitor (ICI): paclitaxel, paclitaxel + pelareorep, and paclitaxel + pelareorep + avelumab.
In our IND-213 trial, treatment with pelareorep in combination with paclitaxel led to a statistically significant near doubling of overall survival in patients with HR+/HER2- metastatic breast cancer in a randomized setting.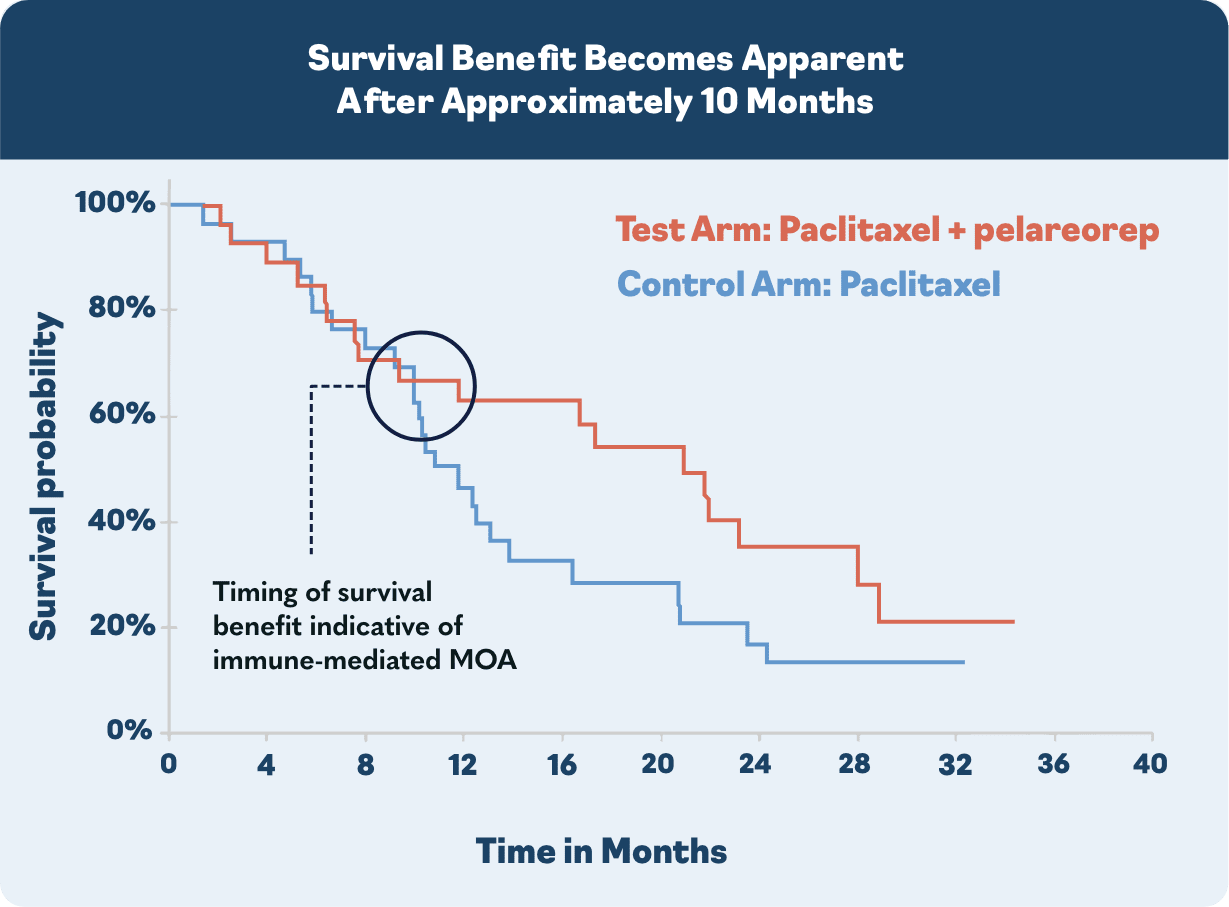 Building upon this data, the BRACELET-1 study, which is modeled after the IND-213 trial, showed a near tripling of overall response rate (37.5% vs 13.3%), more than doubled median progression-free survival (PFS) (9.5 months vs 6.3 months), and a hazard ratio of 0.29 (95% CI: 0.09, 0.98) for the pelareorep + paclitaxel cohort compared to paclitaxel monotherapy. Overall survival (OS) data from the study continues to mature as several patients in the pelareorep-paclitaxel cohort remain on study. Having now treated over 100 HR+/HER2- patients across two randomized studies, we will work to advance a two-arm registrational study of pelareorep-paclitaxel and paclitaxel with dual PFS and OS endpoints, which can substantially reduce the time to potential approval.
For additional details about this study, please visit the BRACELET-1 clinical trial page.
In the IND-213 study, the combination of pelareorep and paclitaxel nearly doubled overall survival in patients with HR+/HER2- metastatic breast cancer.
For the latest updates on the BRACELET-1 trial, click the link below.
For questions regarding our science, partnership opportunities, or other inquiries, we encourage you to reach out.